From most recent reports 8:40pm CT Monday 6 March 2017 – from Twitter…
BEAVER CO.: US-270 is closed from south of Beaver to the US-412 junction due to grass fire. Find alternate route; do not drive into smoke.

709p-Storms will likely grow & affect Kay county within the next hour. Damaging wind & large hail may be possible. #okwx

OK Emergency Mgmt Retweeted NWS Norman

More fire evacuations in NW OK #okfire

OK Emergency Mgmt added,

A tornado watch has been issued for parts of Arkansas, Kansas, Missouri and Oklahoma until 3 AM CST
+++
Radar update, 7:25PM t'storms developing along cold front north central OK racing east at 45 mph.
+++
5/ As of 8:00 p.m., Goeller says Payne Co. fire is not contained and crews will remain to ensure all threats to control line are dealt with

4/ Goeller says a bulldozer built a control line along the fire's eastern flank. Tactical plan is to use that line and stop fire there

3/ Want to make sure the eastern edge of the fire is secure before the winds are expected to shift tonight.

2/ @OKForestService says approx. 600 acres burned/burning as a part of the Payne Co. wildfire. Plan is to work perimeter along eastern flank

1/ Just got off the phone with @OKForestService Asst. Dir. & Fire Chief Mark Goeller.
+++
OFS Task Force is working the fire at Ft. Supply in Harper County. Aircraft and personnel on the fire in Payne… http://fb.me/7BVrU5XRB 

Multiple large fires across the state. OFS has a crew and aircraft on the Starbuck Fire in Beaver County… http://fb.me/8oQEA8Pnt 

Multiple large fires around the state at this time. Please use extreme caution with anything that can cause a… http://fb.me/876CHSJiS 
+++
CLOSED due to wildfires: – US-270 from south of Beaver to US-412. – SH-34 btwn Woodward to US-64 @kfor
+++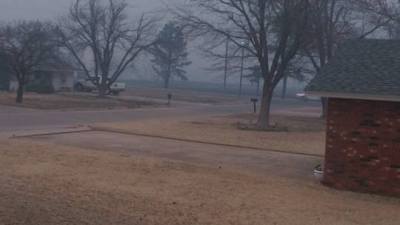 +++
752p-Storms so far have struggled to form in Kay county & points SW along the cold front due to sufficient capping. #okwx

741p-Urgent/Fire Warning for Fort Supply! Please take immediate action if currently in Fort Supply from nearby wildfires. #okwx

730p-Smoke from ongoing wildfires will spread SE tonight into central Oklahoma. Don't be surprised if the air smells like smoke. #okwx

Heads up Laverne & Buffalo in Harper county in far NW OK! A Fire Warning has been issued due to dangerous spreading wildfires. #okwx

709p-Storms will likely grow & affect Kay county within the next hour. Damaging wind & large hail may be possible. #okwx

Several significant wildfires continue this evening in Harper & Woodward counties (NE of Laverne/SW of Buffalo/NE of Fort Supply). #okwx

The severe storm risks tonight have been expanded west. The OKC metro area may be impacted 9p-Midnite with wind/hail. #okwx #texomawx

613p-Fire Warning in effect for parts of Woodward county! Take action! #okwx

High wind warning in effect through the afternoon for northwest Oklahoma. SW and W winds 35 to 40 mph, gusts close to 60 possible #okwx
+++
Issuing Office: Oklahoma City

Source: National.Weather.Service
… SIGNIFICANT WEATHER ADVISORY FOR SOUTHEASTERN OKLAHOMA… NORTHERN CLEVELAND AND NORTHWESTERN MCCLAIN COUNTIES UNTIL 945 PM CST… AT 905 PM CST, A STRONG THUNDERSTORM WAS LOCATED 4 MILES NORTH OF NEWCASTLE, MOVING EAST AT 60 MPH. HAZARDS INCLUDE… HAIL UP TO THE SIZE OF NICKELS… WIND GUSTS TO 50 MPH…
+++
LIVE streaming http://okcfox.com/live
http://okcfox.com/news/local/multiple-grass-fires-raging-in-northwest-oklahoma-and-the-panhandle
+++
Reported by Jim Lantern

LANTERN TIMEGLASS JOURNAL
Monday night, 6 March 2017