Jim Lantern, in Norman Oklahoma – home of Oklahoma University 
11:30am CT Saturday 17 September 2016
Announcement – Election 2016 – Politics + Entertainment – Sports – College Football!!!
It's FULL MOON madness in Norman Oklahoma! Expect biblical traffic jams! Forecast includes football size hail and 100 yards of rain!
DONALD TRUMP ATTENDING FUNDRAISER IN NORMAN OKLAHOMA
UPDATE: Sources Say Donald Trump Will Attend OU Game In Norman – News9
Presidential hopeful Donald Trump will attend the OU game during his fundraiser trip to Norman, Oklahoma, this weekend, sources told News 9.
It will be a busy weekend in Norman. Not only will the Sooners be playing, but presidential hopeful Donald Trump will be in town for a private fundraiser.
According to the Norman Transcript, the event is scheduled to be held at the Miller House near South campus. Trump's online schedule for Saturday includes a 1 p.m. trip to Houston and a 7:30 p.m. stop in Colorado Springs.
The Norman visit isn't listed on Trump's website, but the Transcript reports it will start at 4:30 p.m.
Kickoff for the Sooner game is scheduled for 6:30 p.m.
No doubt there will be a Trump traffic-jam!
If it were not for sources via News9, I might not believe it. The original known plan: Attend event in Houston at 1 p.m. and then event in Colorado Springs at 7:30 p.m. after the 4:30 p.m. event in Norman. Perhaps to avoid being late he'll click his heels 3 times to teleport to the Colorado Springs event. *
From TV Guide…
Ohio State at Oklahoma – 

6:30 PM CT on KOKH 12 (FOX), 3 hr 30 min

Ohio State at Oklahoma. Elite QBs J.T. Barrett and Baker Mayfield are on display while Ohio State LB Raekwon McMillan collides with Sooners RB Samaje Perine. The Buckeyes enter Norman with a remarkable 18-0 record in true road games under Urban Meyer. The visitor took both previous meetings, in 1977 and 1983.
* – 3:30pm Update… I believe the 1:oopm event in Houston lasted at least hour. I'm assuming Trump is flying in his private jet from the political event in Houston to Oklahoma City, or directly to Norman if the runway here is long enough to handle his jet. About 1 hour 20 minutes flight from Houston to OKC, then a 30 minute drive to Norman, so figure at least 2 hours. He could be late to the fundraiser and/or to the game. I'd expect Trump to arrive at the football game like the Wizard of OZ in a hot air balloon to land on the 50 yard line. Not going to happen that way, of course, but it would be a spectacular arrival for Trump. Now the question is does he skip the football game, or just make a brief stop there and then go on to Colorado Springs, or attend the entire game and delay his trip to Colorado Springs? Appearing at the football game would do him more good than just the private fundraiser at Miller House – not an event open to the general public like the football game is. He'd get more exposure at the football game, televised on FOX. The kind of thing I'd expect him to go for.
5:00pm…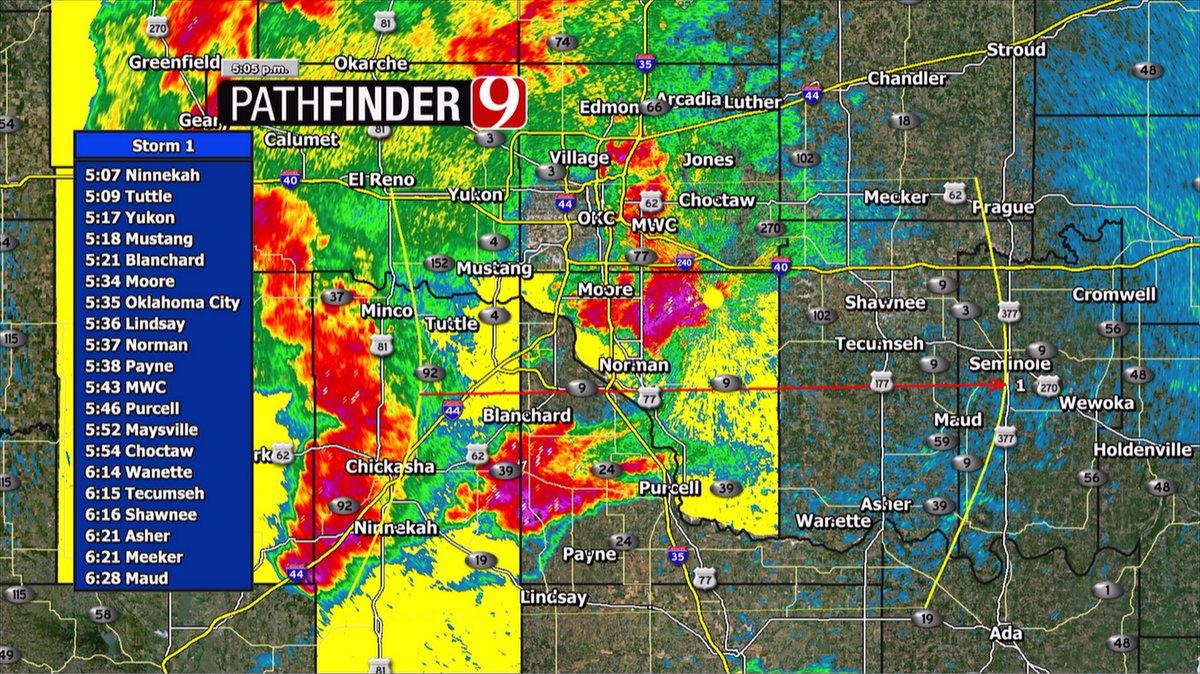 6:00pm…
Rain ending in Norman Oklahoma. Looks like OU game start delay to 8:10pm from 6:30pm isn't necessary. 6pm, sun shining now SW Norman.
Meantime 6:10pm, Oklahoma State game also delayed – during 4th quarter with score tied…
Rain & lightning heading into Stillwater & has delayed the game. Stadium has been evacuated. #okwx @news9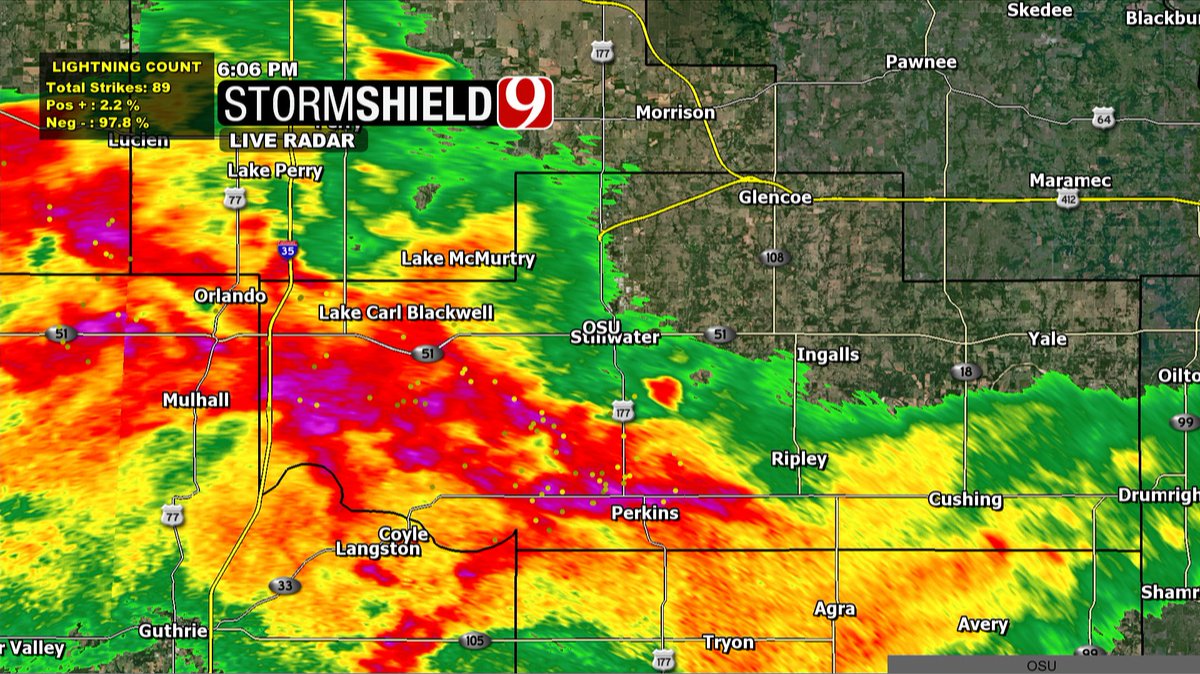 Trump greets the Norman crowd. @kfor
6:45pm…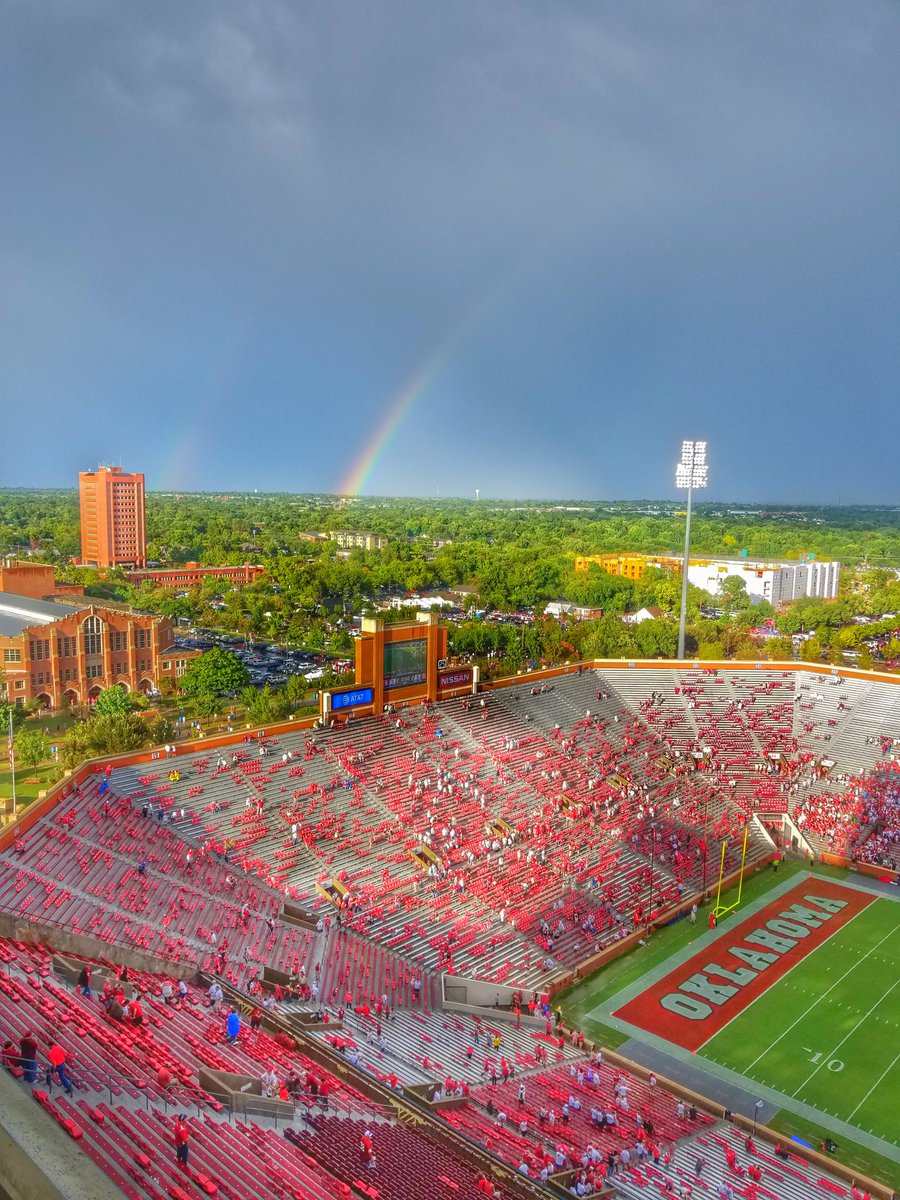 +
+
Trump has departed Norman – no visit to OU stadium for football game (delayed by rain). Apparently he is headed to Colorado Springs as scheduled.
END OF MY COVERAGE OF THESE EVENTS
+ + +