Jim Lantern
MAJOR EARTHQUAKE HERE IN OKLAHOMA – official 5.6 – about 7:03am CT Saturday 3 September 2016. [Official 7:02am CT.]
Centered in Pawnee, Oklahoma, where homes and businesses are damaged. No injuries reported yet.
I felt it here in Norman, Oklahoma, side-to-side east-west movement. I'm near 24th SW & Lindsey. Almost knocked me off of my feet. It was so violent I thought the apartment building would collapse. I don't see any damage.
Earthquake felt statewide. Lasted about 30 seconds.
Earthquake felt from Houston to Kansas City.
Warning issued for likely aftershocks.
This is not like the series of isolated mild earthquakes near Jones, Oklahoma, during past several years, attributed to fracking. This is different. Significant. Likely a different cause.
No power failure. Water still runs so no broken pipes so far as I know.
Reports on TV – KFOR, KOCO, News9, etc… and via Twitter – number 1 trending in United States now.
Will add updates here if/when more information known. 
Update 8:12am CT. Official 5.6 earthquake at 7:02am Central Time U.S. centered near Pawnee, Oklahoma. Widespread damage now being reported across state, as far away from Pawnee as Pauls Valley, Oklahoma.
8:22am… AFTERSHOCK EARTHQUAKE: M 3.6 – 15km WNW of Pawnee, Oklahoma http://ift.tt/2bTpACL  per USGS
8:30am… More aftershocks . . . 3.2 then 3.1. And now 2.9.
CNN reporting earthquake felt in at least 7 states.
Radius from center near Pawnee Oklahoma at least 500 miles.
USGS Ntl Equake Info Cntr has determined an preliminary magnitude of 5.6, 14 Km NW of Pawnee @ 7:02 am. Aftershocks may occur. #earthquake
WIDESPREAD DAMAGE BEING REPORTED, BUT NOT MAJOR DAMAGE.
9:18am… To be News Conference in Pawnee, Oklahoma, at about 9:30am. News9 TV will cover it.
I was standing in the shower when it hit. Was thinking, Oh shit, I'll be found naked in the rubble. But seriously, it was so severe I could see the walls warping. I really did expect damage, but have found none here at my apartment.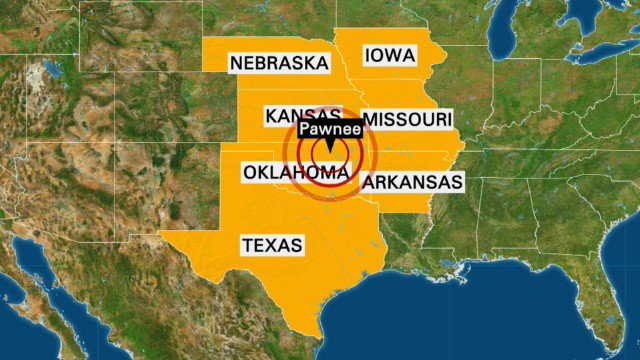 Reports coming in of cows knocked over by the earthquake. Milkshakes.
9:33am… Official: 7 aftershocks so far. No injuries reported. No gas leaks. No water leaks. No power failures. Some damage to structures – businesses and homes. Checking bridges and other structures.
9:55am… NEWS COVERAGE OF EARTHQUAKE ENDING ON TV – LOCAL STATIONS.
ABC TV – local KOCO: College Football, Oklahoma University at Houston…
Oklahoma vs. Houston at 
11:00 AM on KOCO 8, 3 hr
Oklahoma (11-2 last season) vs. Houston (13-1) at NRG Stadium in Houston. This highly-anticipated clash features two of the nation's top QBs in OU All-American Baker Mayfield and the Cougars' AAC title-game MVP, Greg Ward Jr. These teams last met in 2004, with the Sooners rolling 63-13.
3:00pm… Excerpts from KERA News:
The Oklahoma Corporation Commission has directed dozens of wastewater disposal wells within an approximate 500-square-mile radius of the epicenter of the Oklahoma earthquake to shut down.
The commission says about 35 wells are included in the directive, which was issued following the 5.6 magnitude earthquake that struck Saturday morning about nine miles northwest of Pawnee in north-central Oklahoma.
The number of magnitude 3.0 or greater earthquakes has skyrocketed in Oklahoma, from a few dozen in 2012 to more than 900 last year.
Commission spokesman Matt Skinner says the wells were directed to shut down due to scientific links that the increase to the underground disposal of wastewater from oil and gas production induces earthquakes. The commission has previously asked producers to reduce wastewater disposal volumes.
The earthquake ties the record for the strongest earthquake in recorded Oklahoma history. No major damage was reported, and there was one minor injury.
The United States Geological Survey said that the 5.6 magnitude earthquake happened at 7:02 a.m. Saturday in north-central Oklahoma. The U.S.G.S. also reports a 3.6 magnitude aftershock in the same area at 7:58 a.m.
Oklahoma Gov. Mary Fallin says that crews are checking bridges and structures for damage after the earthquake, which ties a 2011 temblor for the biggest on record in the state.
Fallin tweeted Saturday morning that the Oklahoma Department of Transportation is checking bridges in the Pawnee area for damage. Pawnee is about 60 miles northwest of Tulsa.
Fallin also tweeted that state officials want structural engineers to look at building safety in the wake of the quake.
Pawnee County Emergency Management Director Mark Randell says a man protecting his child suffered a head injury when part of a fireplace fell on him. Randell says the man was treated at a hospital and released.
Randell said the Saturday morning quake did cause cracks and damages to city buildings, some of which date to the early 1900s.
Saturday's earthquake rattled a swath of the Great Plains from Nebraska to North Texas.
People in Kansas City, Missouri; Fayetteville, Arkansas; and Norman, Oklahoma, all reported feeling the earthquake. Dallas TV station WFAA tweeted that it felt the quake, too.
Sean Weide in Omaha, Nebraska, said he'd never been in an earthquake before and thought he was getting dizzy. Weide said he and one of his daughters "heard the building start creaking" and said it "was surreal."
Officials at a nuclear power plant in the southeast corner of Nebraska say tremors from the Oklahoma earthquake were felt at the plant. Nebraska Public Power District's Cooper Nuclear Station south of Brownville declared an "unusual event" just after 7 a.m. because of the minor tremors.
Officials say there was no damage to the plant or equipment, and no threat to the public or plant personnel occurred. The plant continued operating Saturday, but station personnel increased monitoring of plant equipment, per the plant's policy.
Station emergency preparedness manager Jim Stough says the nuclear station was built to withstand some earthquakes and other scenarios that are likely to occur in the region.
Officials say local, county, state, and federal agencies were notified of the event.
24 Hours Later…
Throughout the night I battled a major invasion of roaches unlike any ever before. I'm guessing the earthquake somehow caused that to happen.
+ + +